Investing in Your People: An All-Team Conference Done Right
Posted by Andrew Kobialka on October 24, 2022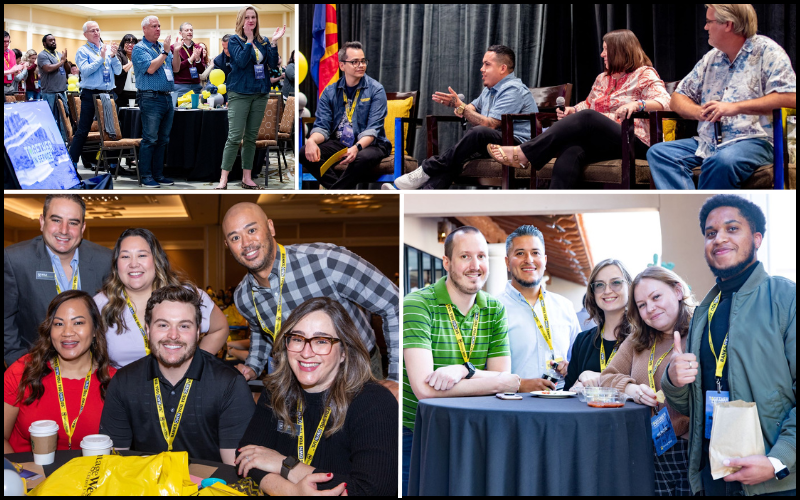 On Monday, Oct. 10, Vantage West Credit Union, based in Tucson, Arizona, closed all locations to allow team members from the entire credit union to attend "Together In Service" – their first-ever, all-team conference. The event's purpose was to celebrate together as a team for their commitment to service, members, and each other. With many team members working remotely, it provided the opportunity for invaluable in-person networking and team building.
As one team member shared in their survey response, "Thank you SO much to everyone who made this possible! I was the happiest I have been in a while and felt so wonderful to see all my co-workers while laughing, getting inspired, and enjoying the day! Thank you sooooooo much!"
Upon arrival, the Vantage West team was greeted by a local Mariachi group and Folklorico dancers. They were handed a specially curated bag of company-branded swag and a custom t-shirt designed by Qmulative, a local designer. As they made their way to the main ballroom, they dropped off books for donation to local charities in exchange for entries into a drawing. Before entering, they had the opportunity to network with the various DEI affinity groups and participate in group-themed activities.
The conference agenda consisted of team-building activities, a refresher about progress toward achieving the credit union's strategic goals and initiatives, and a lineup of guest speakers, which were on point. In the words of a second survey responder, "The agenda, speakers, and activities were spot on! I can't for the next event!"
The event officially kicked off with a formal presentation of colors ceremony and was broken down into segments where speakers each presented a topic related to one of the credit union's core values: "Value Members and Each Other," a DEI segment; "Work As a Team," which featured an activity in support of Youth On Their Own, a nonprofit dedicated to supporting high school graduation for youth experiencing homelessness; "Constantly Improve," a segment on innovation; and "Uphold Accountability," presented by GoWest's President and CEO Troy Stang, who spoke about upholding accountability to the credit union movement and its members.
There was also a panel discussion featuring Vantage West members who are the stars of the credit union's latest branding campaign, "For Everyday." That segment received a standing ovation, proving that the most important thing to Vantage West employees is serving their member-owners.
To share one final survey response, "This was one of the most wonderful experiences Vantage West has provided! We all felt so inspired and felt appreciated!"
Sandra Sagehorn-Elliott, Vantage West's president and CEO added, "The event was a wonderful representation of the credit union's purpose of Investing in people today to achieve a more prosperous tomorrow," and expressed her appreciation to the planning committee.
The event got a 90% approval rating, proving it was time well spent and just what the Vantage West team needed to energize and re-ignite their passion for serving members, the communities they serve, and each other.
How is your credit union investing in the growth and well-being of your team? Share with the GoWest community here, and inspire healthier and more fulfilling work cultures!
Posted in Arizona, Top Headlines.