The All-In Advocacy Fight to Stop Misguided Legislation
Posted by Andrew Kobialka on October 18, 2022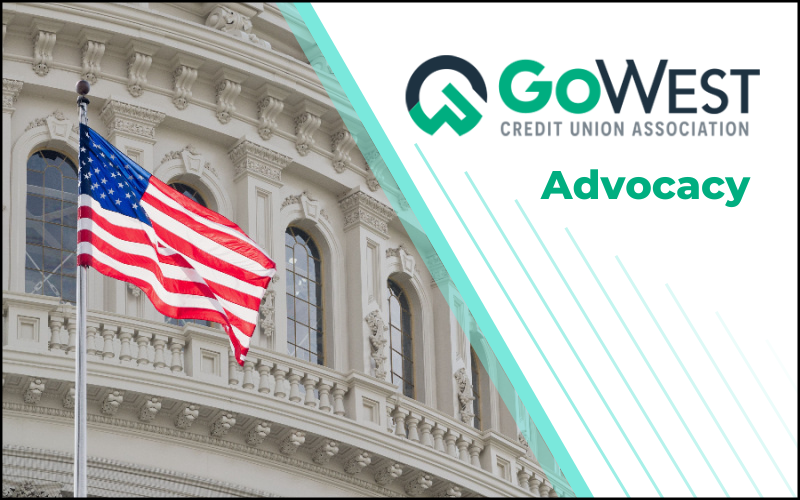 The GoWest Credit Union Association's advocacy force and credit union advocates across the nation are pulling out all the stops to make sure the "Credit Card Competition Act" does not pass.
U.S. Senators Dick Durbin (D-Illinois) and Roger Marshall (R-Kansas) introduced S.4675 in the Senate earlier this summer, and this Fall, Representatives Peter Welch (D-VT) and Lance Gooden (R-TX) followed suit with a House version, H.R. 8874. Gaining little to no traction in terms of co-sponsorships or other support (besides that from the mega-retail lobby), Senators Durbin and Marshall tried to open a back door by tethering the bill and another ominous amendment to the National Defense Authorization Act (NDAA) earlier this month.
Immediately, GoWest issued its third round of calls-to-action against the legislation, encouraging its members to tell their federal elected officials why the legislation itself is so misguided, and why the NDAA — designed to ensure our troops have the funding and resources to protect the nation – should not become a pawn on Durbin and Marshall's chess board. Formatted letters for all credit unions and specifically for defense credit unions, were posted to GoWest's Grassroots Advocacy Center. Hundreds of GoWest member advocates have stepped up to use these resources.
It worked, so far.
"We are pleased to announce that your voices were heard, and the attempt to add the Durbin-Marshall amendments to the Senate version of the NDAA was defeated when the managers of the legislation did not accept additions to the legislation," said Ryan Fitzgerald, GoWest's vice president of federal advocacy. "But we cannot let up our opposition. The Senate will vote on the final version of the NDAA later this month, and then it will go through the conference process in the House. We can't let the sponsors of this legislation try another back door attempt to pass it."
Fitzgerald strongly urges credit union advocates to remain vigilant.
"If you have not already done so, please take a moment to log onto the Grassroots Advocacy Center, and make your opposition clear to your representatives today," Fitzgerald said. "If history on Durbin 1.0 tells us anything, we know the Senator will make every attempt to attach his bill to any legislation that is poised for passage."
ICYMI: Background on the Bill
There are myriad reasons to push hard against this legislation, and to look for ways to provide clear messaging on the Interchange issue into the future.
Here's the bottom line: It's bad for financial institutions and won't help their members one iota. The safety and convenience of credit cards today benefit consumers and businesses. The Marshall-Durbin/Welch-Gooden proposals put that at risk by mandating that merchants can choose how card transactions are routed. In simple terms, merchants can select cheaper payment processing instead of using the safest and most secure networks. This choice could put the data of millions of consumers at risk and reduce the revenue that financial institutions use to fund technology improvements, fraud prevention, and making members financially whole after a fraud incident or a merchant's data breach.
"If your members understand the truth about this misguided legislation, they, too, will be strongly opposed," Fitzgerald added.
Posted in Advocacy News, Top Headlines.