Download this App Now to MAXXimize Your Convention Experience
Posted by Andrew Kobialka on October 4, 2022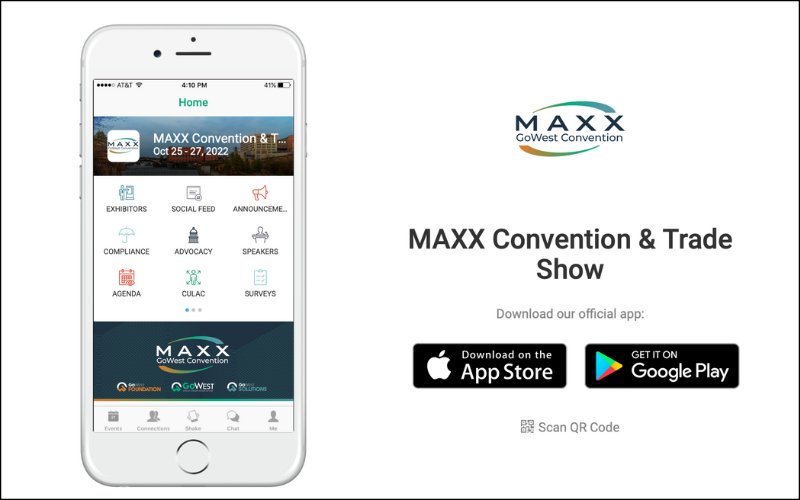 MAXX 2022 is just a few weeks away, and it promises to be loaded with opportunities to learn, network, and advance the Credit Union Movement.
There will be a lot going on each day, from illuminating mainstage keynotes and breakout sessions to the Trade Show, CU4Kids Disco Ball auction, Credit Union Celebration Dinner, and more.
To make your conference experience seamless and easy to navigate, download the free GoWest Events App ahead of time and familiarize yourself with the various features!
It's a great way to stay in touch with everything MAXX 2022 has to offer. You can easily access venue maps, personalize your daily agenda, and get information about speakers, exhibitors, and sponsors.
The app will be continually updated with new and relevant information leading up to the beginning of MAXX — so make sure to revisit the app as the conference approaches.
Here are some neat features to help you make the most of your MAXX experience:
Interactive Trade Show floorplan: Want to learn more about one of the Trade Show exhibitors? Simply click on a vendor's name on the Trade Show map to view their information and booth location.
Speaker and agenda Info: Learn about each speaker coming to MAXX and view session information to help curate a personal agenda!
Share and tweet: There are three ways to get involved using social media:

MAXX 2022 has an exclusive social media feed. Post your updates and pictures directly within the app.
You can also post to your own social media pages by using the hashtags #MAXX2022, #GWCreditUnions, #Spokane, #CUMovement, and #CUDifference on Facebook, Twitter, and LinkedIn. Tag us @GoWestCUA on Facebook and Twitter so we reshare your posts!

Real-time surveys: Receiving attendee feedback is vital to ensuring an even better MAXX next year. A survey will be available after each mainstage and breakout session. Share your feedback fast by simply clicking on the survey icon in the app.
Instant messaging: It's easy to stay in touch with peers, credit union professionals, and Trade Show exhibitors no matter where you are at MAXX. Use the message feature from within the app to message another attendee or connect with a new business contact.
Announcements: Receive push notifications in real-time to receive the latest MAXX updates.
The GoWest Events App is available for free download at the Apple App and Google Play stores. If you previously downloaded the app for MAXX 2021, simply update the app in the app store and log in using the same email address and password you used to register. If this is your first time using the app, download it and create a new profile when prompted. Make sure to fill in or update your name, title, company, bio, and photo on your profile so you can easily exchange business information with colleagues.
Content will be loaded into the GoWest Events app for MAXX 2022 up until the day before the convention. We suggest downloading the app now and refreshing it the morning of Oct. 25 for the most up-to-date information.
Please contact Digital Marketing & Analytics Specialist, Ben Shuey, if you have any app-related questions.
Don't forget — there is still time to register for MAXX 2022! Visit the event page online to learn more about this year's convention.
Posted in Events, MAXX Annual Convention, Top Headlines.