Horizon Credit Union Gets in the Giving Groove
Posted by Andrew Kobialka on September 27, 2022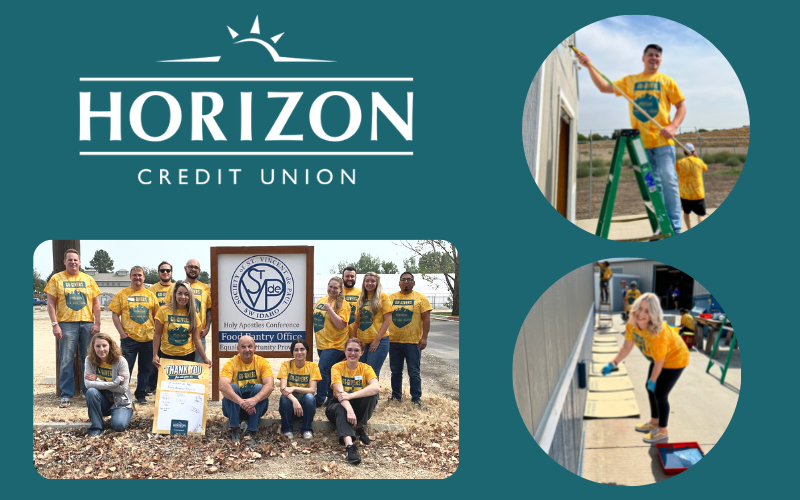 During Horizon Credit Union's largest community outreach event of the year, 425 employees volunteered 1700 hours at 30 local organizations that make an impact on food and housing insecurity.
On Tuesday, Sept.13, the organization closed for the afternoon and ventured into the communities they serve for their 5th annual Go.Give.Grow. event. This year's theme was "Get in the Giving Groove" with employees sporting yellow tie-dye shirts.
This company-wide event brought employees together for a groovy, large-scale community service project with volunteer efforts stretching from Ephrata, Washington to Great Falls, Montana down to Boise, Idaho, and into La Grande, Oregon.
In a single afternoon, Horizon employees — participating both in-person and remotely — sorted, moved, packed, and bagged over 13,500 pounds of food; sorted and organized 215 pounds of clothing; deep cleaned 10 facilities; completed 6 painting projects, and wrote 2,100 cards for Meals on Wheels recipients.
There were also landscaping projects to improve the quality of life at low-income housing communities including harvesting gardens, trimming trees, and maintaining yard care. Horizon also made monetary donations to organizations hosting volunteers.
Making a difference is not just a one-day event at Horizon. Volunteering and contributing to the community are integral parts of Horizon's mission. In addition to closing one afternoon each year, each employee is given up to 24 hours of paid volunteer time to use during work hours each year. Many employees also volunteer outside of work hours on their own time.
Posted in Regional Member News.