Three Oregon Credit Unions Win CUNA Excellence in Technology Award for Digital Identity Authentication Implementation
Posted by Andrew Kobialka on September 23, 2022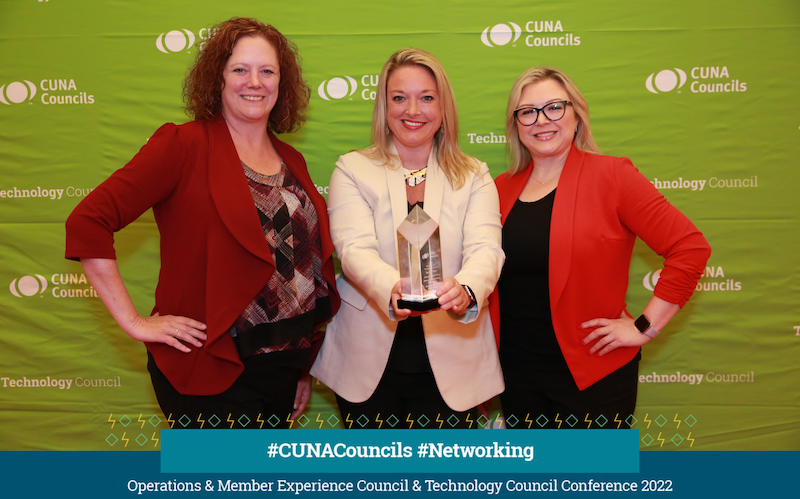 Advantis Credit Union, Rivermark Community Credit Union, and Unitus Community Credit Union have been recognized as winners of the Credit Union National Association (CUNA) Technology Council's Excellence in Technology Award, Best of Show, for their implementation of Cozera's id-go biometric identity verification solution.
The Excellence in Technology award from CUNA identifies, recognizes, and honors credit unions that exemplify excellence in information technology.
Advantis, Rivermark, and Unitus have showcased id-go as an innovative approach to serving members with simple, secure digital identity. The award from CUNA acknowledges id-go's universal application to credit unions nationwide and aims to share the solution with peers.
Collaboration between id-go's creators, Cozera, and the three credit unions served to provide a seamless implementation of the technology across all current branch locations and call centers, with plans for future expansion to more channels, such as online and ITMs.
"Through collaboration with our partners at Rivermark and Advantis, we were able to implement a member-centered solution to quickly identify them and protect them from fraud," explained Steven Stapp, president and CEO of Unitus. "Learning and innovating together are just a couple of the ways we collaborate to improve the member experience and share our knowledge to the benefit of all in our community."
The implementation of id-go's biometric authentication technology can be no-code or low-code for financial institutions, allowing for minimal effort from IT during set-up. The solution does not require the end user to create an account, remember a password, or download an app.
Rather, the user receives a text message prompting them to verify their identity through biometric feature(s) on their mobile phones, such as face ID or fingerprint, allowing for smooth contact with credit union representatives.
"The authentication process begins before a Contact Center representative answers the call; eliminating the clunky and manual identification process," said Seth Schaefer, Rivermark's president and CEO. "This allows our representatives to start each call with – 'Hello member name, how can I help you?'"
The adoption of id-go has improved member experience for all three credit unions, providing a secure, fast way to verify member identity without the need for out-of-wallet-type questions.
"Delivering value through products that provide access and convenience is an important part of the commitment Advantis makes to our members," said Jason Werts, President and Chief Executive Officer of Advantis Credit Union. "By implementing id-go, we are utilizing technology to enhance the member experience while also providing additional security. Id-go allows us to save time by removing barriers and streamlining the verification process, which then lets us get right to the needs of our members."
FTSI, a leading partner with the three credit unions and Cozera, has worked to bring id-go to market through education, webinars, marketing, and solution integration.
"We are thrilled to see this award presented to these three outstanding Oregon Credit Unions," said Susan Napier, FTSI's CEO. "Partnering with innovative leaders to bring new and compelling solutions to market is something we are honored to be a part of."
Id-go's innovative solution to identification verification is designed to accommodate any channel; in-branch, call center, and in person. Member identity can be securely verified through their own mobile device's biometric features in seconds, leaving more time for meaningful interactions and less time asking identity questions.
"This award is a wonderful validation of the work done by the Cozera technical team and our credit union partners," said Mike Berrett, CEOt at Cozera. "After over three years of co-development and a recent shift to low code/no code, we finally have a solution that credit unions love and members appreciate."
Award winners were recognized at the CUNA Technology Council's 24th annual conference, held September 21-24, 2022 in Las Vegas, Nevada.
Posted in Regional Member News.