Idaho Credit Union Leader Seeks FHLB Des Moines Board Position
Posted by Andrew Kobialka on September 20, 2022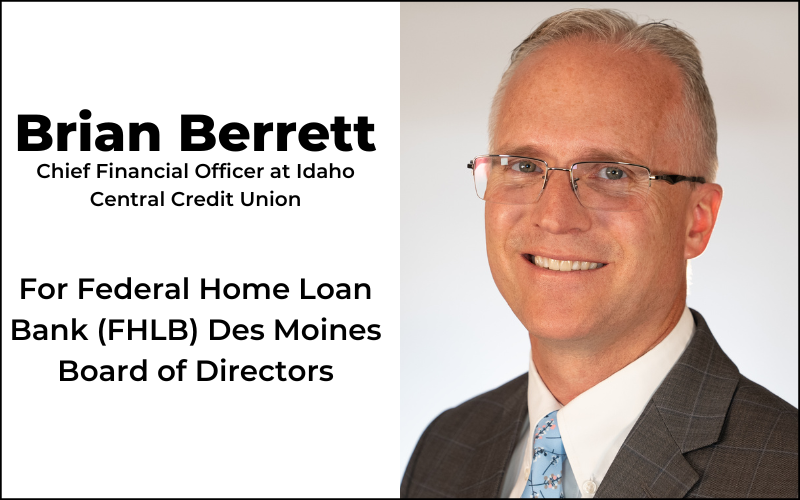 In his role as Chief Financial Officer at Idaho Central Credit Union, Brian Berrett has seen his credit union successfully use many products and services offered by the Federal Home Loan Bank (FHLB). He's well familiar with the services the FHLB system provides to thousands of financial institutions across the nation in supporting mortgage lending and serving as a stable source of funding.
So, when the FHLB Des Moines opened up the 2022 Board of Directors election cycle, Berrett raised his hand and filed as a candidate for the Idaho position.
"I'd be honored to bring more credit union perspective to the FHLB, which is such an important resource in the financial services industry," Berrett said. "I have chosen to serve my entire career in the Credit Union Movement and am a strong believer in the system."
Indeed, Berrett's credentials are strong. In his 30 years of service to ICCU, he has helped to drive innovation, developing deposit products, overdraft services, loan participations, interest rate swaps, and more. He oversees accounting and finance, risk management, fraud protection, vendor management, purchasing, and collections. He knows his team is strong and that he can fulfill the role of an FHLB Director.
While only Idaho credit unions with voting shares can cast ballots in the election (Sept. 21 – Oct. 28), all credit unions benefit by having their voices heard. The FHLB Des Moines serves 13 states and three U.S. Pacific Territories. But of the 22 Directors serving on the current board, only two are credit union professionals. The seat Berrett seeks is now occupied by a banker who is running for reelection.
"Brian is imminently qualified to serve on the FHLB Des Moines Board," said Troy Stang, President and CEO, GoWest Credit Union Association. "He will be a good steward for the financial services industry, and for credit unions that leverage FHLB's resources."
Berrett is proud to be a lifelong Idahoan. He's a husband, a father of five children, and a grandfather of three. He is a Certified Public Accountant, designated by the Credit Union Executive Society as a Certified Chief Executive, previously served on an FHLB Advisory Council, and has served on a number of boards in his community.
If elected to the FHLB Des Moines Board, he would begin his term in January, alongside two other credit union professionals – Jim Hunt, SVP and CFO, OnPoint Community Credit Union in Portland, and Lauren MacVay, President and CEO, True North Federal Credit Union in Juneau, Alaska.
Posted in Advocacy News, Top Headlines.