10 GoWest Credit Unions Win 2022 Regional CUNA Awards
Posted by Andrew Kobialka on September 20, 2022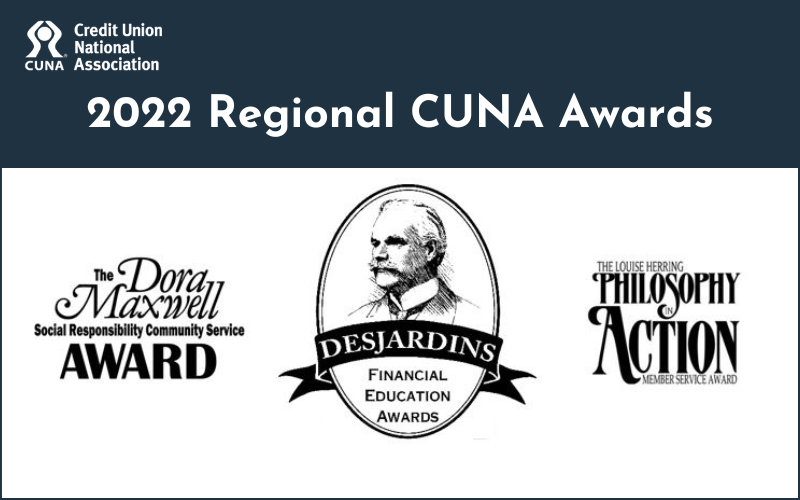 So much of what credit unions do is led with a servant's heart and a "full steam ahead" approach to the Movement's "People Helping People" cornerstone.
And it works — countless members across the country have personally been impacted by these not-for-profit cooperatives as they partner with communities to fill local needs through donations, charitable events, volunteering, and of course, life-empowering financial services.
The annual CUNA Awards reflect and celebrate the astounding accomplishments of credit unions in the areas of member service, community impact, and financial education.
With Sept. 20 being the birthday of Louise Herring — one of the most prolific pioneers of the Credit Union Movement and inspiration for one of the award categories — it's the perfect time to shine a light on this year's GoWest regional winners and their incredible achievements.
"Credit unions are changing lives and helping communities thrive, and it's an honor to partner alongside them," said Christine Ruzzi, GoWest Credit Union Association's AVP of Enterprise Engagement. "Congratulations to this year's winners!"
Desjardins Adult and Youth Financial Education Awards
This award honors leadership within the Credit Union Movement on behalf of youth and adult financial literacy.
Tucson Old Pueblo Credit Union, Tucson, Arizona ($50-$250 million in assets category) — By 2021, 51% of TOPCO's employees had passed the CUNA Certified CU Financial Counselor Exam and have provided one-on-one financial counseling to its members for free. The credit union also participated in the America Saves program where they helped lower socio-economic members save a total of $2 million in a week.
SnoCope Credit Union, Everett, Washington ($50-$250 million in assets category) — The credit union's virtual Adult Financial Wellness Seminar program became a huge success as it offered flexible learning that was free to its members, Snohomish County and Community Transit Employees, and other employer groups and to the surrounding community.
Canvas Credit Union, Lone Tree, Colorado (More than $1 billion in assets category) — The credit union partnered with Poudre School District and Boys and Girls Clubs of Larimer County to provide financial education to over 100 children through two programs. At the time of their application, 32 students received Personal Financial Literacy credits through these programs.
Horizon Credit Union, Spokane Valley, Washington (More than $1 billion in assets) — The credit union developed a Financial Trek Check process to further support and educate members (and non-members) on their financial journeys. After completing a simple assessment, participants receive resources based on each response to create a personalized Money Map with specific action items and educational resources to share.
Dora Maxwell Social Responsibility Community Service Awards
These awards honor credit unions for community impact programs.
Atlantic City Federal Credit Union, Lander Wyoming ($50-$250 million in assets category) — In September and December of 2021, ACFCU Union along with the partnership of Wyoming First Lady Jennie Gordon's Wyoming Hunger Initiative, Legacy MWCUA, private donors, and 12 other Wyoming Credit Unions paid off 3,949 individual student lunch debts totaling over $109,600 across 28 school districts and 19 counties in the State.
Clackamas Federal Credit Union, Milwaukie, Oregon ($250 million-$1 billion in assets category) — Over the past several years, Clackamas has worked to create inclusion and vocational, recreational, and personal development opportunities for individuals with cognitive disabilities (i.e. diverse abilities) through Special Olympics Oregon and through a partnership with Exceed Enterprises.
SunWest Credit Union, Pueblo, Colorado ($50-$250 million in assets category) — The SunWest Foundation Golf Tournament raised $16,000 to fill the essential educational needs of 80 students through its Foundation. It focuses on basics like clothes, food, and school supplies, but also frequently funds other necessities. Examples include bus passes, car repairs, utility payments to prevent shutoffs, rent deposits, and much more.
WECU, Bellingham, Washington (More than $1 billion in assets category) — WECU's Education First Grant program awarded $110,000 to four local nonprofits that understand the local education needs and provide inspiring solutions to promoting academic success and/or financial literacy for Whatcom County students of all ages.
Louise Herring Philosophy-in-Action Member Service Awards
The Louise Herring Award recognizes credit union efforts to improve members' lives through outreach programs.
Canvas Credit Union, Lone Tree, Colorado (More than $1 billion in assets category) — Canvas created, developed, and launched an in-house program to deploy the needed funds of the Paycheck Protection Program (PPP) to serve its members. The credit union remained a steadfast partner to members for the more than 1,200 loans that originated under this program.
Gesa Credit Union, Richland, Washington (More than $1 billion in assets category) — Gesa's 2021 Holiday Giving Campaign consisted of two components: a credit union-wide toy drive and supporting local families in need. Gesa's Stock-the-Sock Toy Drive kicked off the campaign with a jumbo stocking at all 27 participating Gesa branch locations to be filled with employees eager to give back to the community and volunteer on behalf of Gesa.
Congratulations to all GoWest member credit unions on these well-deserved regional CUNA Awards!
Posted in Top Headlines.