TruWest Credit Union Donates $40,000 Grant Towards Helping First-Generation College Students
Posted by Andrew Kobialka on September 13, 2022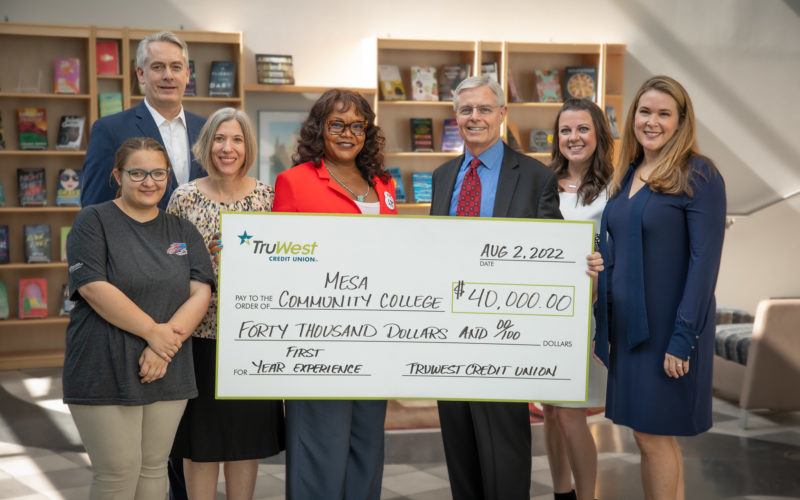 TruWest Credit Union, based in Tempe, Arizona, continues strengthening its longstanding partnership with Mesa Community College and supports students participating in its First Year Experience (FYE) program with a $40,000 grant and in-kind programs for the participants and their parents.
"We are honored to support the Mesa Community College First Year Experience program, reducing barriers for students and supporting their academic success," said Alan Althouse, TruWest's president and CEO. "This is a special program that has an impact on both the students and their families. We look forward to supporting the First Year Experience program for years to come."
The grant covers tuition and fees for approximately 50 students and funds student leadership opportunities through stipends for FYE ambassadors for the 2022-2023 academic year. In-kind programs include financial literacy workshops for the students and their parents led by TruWest professionals.
"The workshops hosted by First Year Experience, Foundation for Student Success, and TruWest were so beneficial," said Grace Johnson, FYE student and ambassador. "TruWest and this program have been a great support system to not only me but every student in the program, and I could not be more thankful for this experience."
FYE is a year-long program focused on providing services and support needed to successfully transition to college. Participants must have attended one of six high schools in the Mesa public schools system and may be first-generation students or students in need of additional academic support in English, math, and reading.
"These last few years we have seen our partnership blossom with TruWest leadership and employees investing in our students through their time, expertise, and generous donations in support of First Year student success," said Melissa Carpenter, director of MCC Foundations for Student Success. "TruWest understands the difference a college education can make in the lives of first-generation college students. They also believe in service to the local community."
Since the fall of 2019 TruWest has provided $135,600 in grants to the MCC FYE program, providing 239 awards for FYE students.
In addition to supporting the FYE program at MCC, TruWest regularly contributes food, clothing, personal hygiene, and cleaning supplies to the Mesa Market, an on-campus pantry for MCC students. In 2020, the credit union refurbished the space used for the market on the MCC Southern and Dobson Campus.
Posted in Arizona, CU Difference, Regional Member News.