How Pima FCU's Leah Friedenberg is Making a Difference by Serving on this Nonprofit's Board
Posted by Andrew Kobialka on September 13, 2022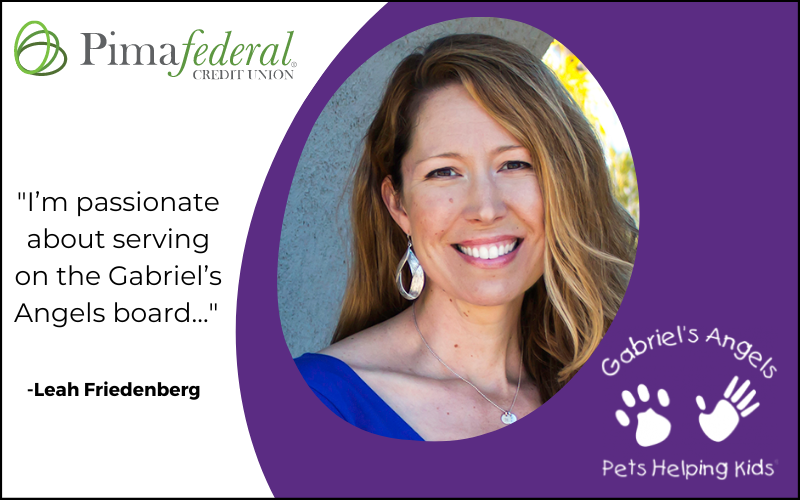 Credit unions are known for their commitment to helping those in need, but that commitment is only made possible by the quality of character of the people who run credit unions.
With 21 years of service at the Tuscon-based Pima Federal Credit Union and now serving as SVP of Organizational Development, Leah Friedenberg is a shining example of the type of individuals living out the "People Helping People" mission.
In addition to her years at Pima, Friedenberg has consistently prioritized personally giving back to her community and takes advantage of Pima's policy encouraging their employees to take four hours of paid time off to volunteer per quarter.
She already serves as a leader for the local Tucson Sister Society of the Global Women's Leadership Network and now, broadens her impact as she gladly steps into a new leadership role where she will directly impact the healing of children.
Friedenberg recently joined the Board of Directors for Gabriel's Angels, an Arizona nonprofit organization whose mission is to inspire confidence, compassion, and best behaviors in at-risk children through pet therapy.
It works by sending registered pet therapy teams, comprised of owners and their pets, to partner agencies serving at-risk children in the Phoenix, Tucson, and Prescott areas. The pet therapy visits provide children with unconditional love and teach core social behaviors.
"I'm passionate about serving on the Gabriel's Angels board because I strongly believe in the value pet therapy programs bring across the state and most importantly to my community in Southern Arizona," said Friedenberg. "I love seeing firsthand how children light up and engage with pet therapy dogs. Our family has personally benefitted from our pets' loving and healing nature, and it means so much to pay that forward to kiddos in need in our community!"
Friedenberg's selfless motivation is inspirational and, fortunately, not uncommon. The Credit Union Movement is filled with like-minded people who have a personal drive to build up their local communities through volunteering. Simply put — the people working for credit unions are the Credit Union Difference.
Do you know someone at your credit union who goes above and beyond to embody the "People Helping People" mission? Tell us about them here or reach out to Andrew Kobialka, Communications Manager.
Posted in Arizona, Top Headlines.