Canopy Credit Union Gives Back with Random Acts of Happiness
Posted by Andrew Kobialka on September 6, 2022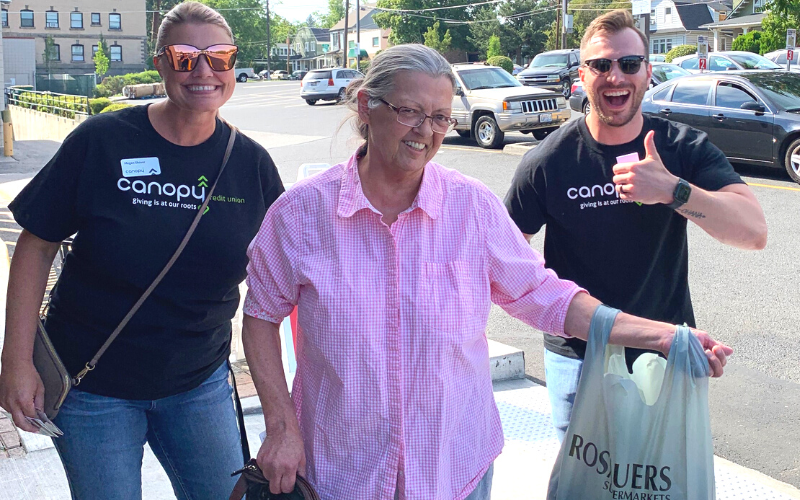 Canopy Credit Union is on a mission to surprise members of the Spokane community with random acts of happiness. Recognizing that many in the community are facing financial hardships, the team at Canopy wanted to find a way to meet people where they are at and spread happiness. 
Inspired by the mission of Happiness Happens Month celebrated in August, Canopy team members showed up unannounced at local grocery stores four times throughout the month and handed out gift cards to customers walking in. Between two Rosauers Supermarkets and two Yoke's Fresh Market locations, Canopy surprised 100 people each with $25 gift cards to the store they were entering.
"We just wanted to bless our community members right where they are at. Times are tough right now and we wanted to find ways to help and spread happiness," said Charlotte Nemec, president and CEO of Canopy.
The Canopy team members kindly approached customers walking into the stores to shop and offered them a $25 gift card, no strings attached. Many people took a moment to understand and realize what they were being given. Some people teared up. Others broke into wide smiles.
One happiness recipient shared her story of being given a gift card in a Google review. 
"Yesterday, I went to Yoke's and there was a gentleman out front who handed me a $25 gift card to the store. I was skeptical at first, but it was actually a legitimate gift card. When I got back outside, I was going to tell him just how much I needed that random act of kindness — See, I work two jobs but am currently living in a hotel with my fiance and our four kids. Our apartment – hopefully it comes through – wasn't available until September 5 and we've been spending nearly every dime we have just for the hotel room. So, when I arrived at the store looking for the cheapest thing I could cook in a hotel and a nice gentleman handed me a gift card, he actually gave me more than a gift card…he handed me HOPE which I was out of!!! Thank you."
By meeting community members in the midst of their daily lives, regardless of whether they were members or non-members, Canopy's acts of happiness were able to provide hope. 
"Our goal was just to make people's day and help them with their groceries, which can be a huge gift for someone in a rough financial spot," Nemec said.
Canopy team members encouraged gift card recipients to pass along the kindness and surprise someone else with a random act of happiness. Some took this to heart immediately with a few of the people who received gift cards surprising the Canopy team with acts of happiness. One gentleman used part of his gift card to buy bottles of Powerade for the Canopy team. An ice cream truck driver responded in gratitude by giving the employees ice cream. One store manager blessed the Canopy team with gift certificates to the store's deli for a sandwich. 
The Canopy team is grateful for the support of the managers and employees at each of the grocery stores who helped bring this happiness-spreading effort to life.
Canopy doesn't plan on stopping the happiness yet and its team is already planning the next round of surprise blessings as a continued expression of its commitment to the community as a Community Development Financial Institution.
Posted in Regional Member News.