American Banker Announces Best Credit Unions to Work For in 2022
Posted by Andrew Kobialka on September 6, 2022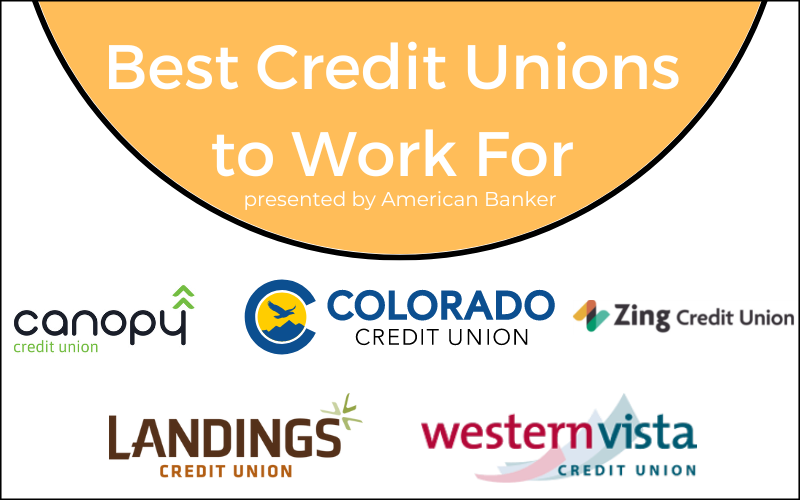 Credit unions live out a "People Helping People" mission every day, so it only makes sense that they should also be great places to work.
This year, five GoWest member credit unions made American Banker's Best Credit Unions to Work For list, including the first-place honor, which went to Colorado Credit Union, based in Littleton, Colorado.
The list highlights 70 credit unions based on the combined results of two surveys. To qualify, a credit union must've had a 40% participation rate in the surveys, and on average at least 80% of respondents had to answer "agree strongly" or "agree somewhat" across the eight topics.
According to American Banker, the credit unions that made the list had employees who were happier in a variety of areas compared with the institutions that didn't make the cut. For instance, employees at the winning institutions reported having a better work-life balance, receiving more effective corporate communication from management and being given more authority to make necessary decisions. Overall, these staff members were more willing to recommend working for their credit union to a friend.
The second survey evaluates the benefits and policies of each credit union. Some of the winners lavished employees with monetary perks, such as picking up the tab for monthly health insurance premiums or providing significant matches to retirement plans. Others created a fun work atmosphere with frequent parties and friendly competitions. Some also focused on professional development by offering leadership courses or reimbursing tuition payments for those continuing their education.
The winning GoWest member credit unions are:
Ranked #1 – Colorado Credit Union based in Littleton, Colorado.

Interesting fact: The credit union uses Fond, a recognition platform similar to social media. It allows employees to recognize each other publicly or privately. Their colleagues can then see these recognitions and comment and like them. All the recognitions are tied to Colorado Credit Union's values and come with points that can be redeemed for gift cards, charitable donations, and other items. Through the platform, the credit union also hosts quarterly awards and wellness initiatives.

Unusual perk: Staff members receive free will preparation through the employee assistance program.
Ranked #7 – Canopy Credit Union based in Spokane, Washington.
Interesting fact: Canopy provides a 7% match for workers who contribute 4% of their salary to their retirement plan. Employees are eligible to join the plan on Jan. 1 or July 1, whichever date comes first after they are hired.
Unusual perk: Employees are encouraged to write a small "thank you" note to a coworker and drop it in the "thank you box." The notes are then delivered to recipients on Fridays.
Ranked #13 – Landings Credit Union based in Tempe, Arizona.
Interesting fact: For exceptional member service, employees can earn an LCU coin, which can be redeemed for paid time off and branded wear.
Unusual perk: Landings has a paid-time-off sell-back program. Workers can sell back up to 80 hours for 100% of their pay rate.
Ranked #40– Zing Credit Union based in Denver, Colorado.
Interesting fact: In December, the executive team hand delivered fresh pies to branches and to all home-based employees in addition to a special holiday letter and monetary gifts.
Unusual perk: Water Cooler Wednesdays are a fun way the credit union generates conversation. Each week the digital and graphic design specialist picks a topic and posts an entertaining article on its intranet, Jostle. Staff members are asked related questions about themselves and can share stories in the comments.
Ranked #55 – Western Vista Credit Union based in Cheyenne, Wyoming.
Interesting fact: Western Vista holds small-group listening sessions where employees share feedback with the executive team in a roundtable format. These often result in organizational changes.
Unusual perk: Employees can earn Cowboy Cash, an internal currency that's issued in $5, $10, $20, $50, and $100 increments, for exceeding goals, going above and beyond, or completing special assignments. Cowboy Cash is used to purchase raffle tickets for the end-of-year party prizes.
See the full list of credit unions here.
If your credit union is a great place to work, tell us why! Share what makes your team special in a short article here or contact Andrew Kobialka, Communications Manager, for help in telling your story.
Posted in Top Headlines.