A Glimpse into TAPCO CU's Small but Mighty Marketing Team
Posted by Andrew Kobialka on August 16, 2022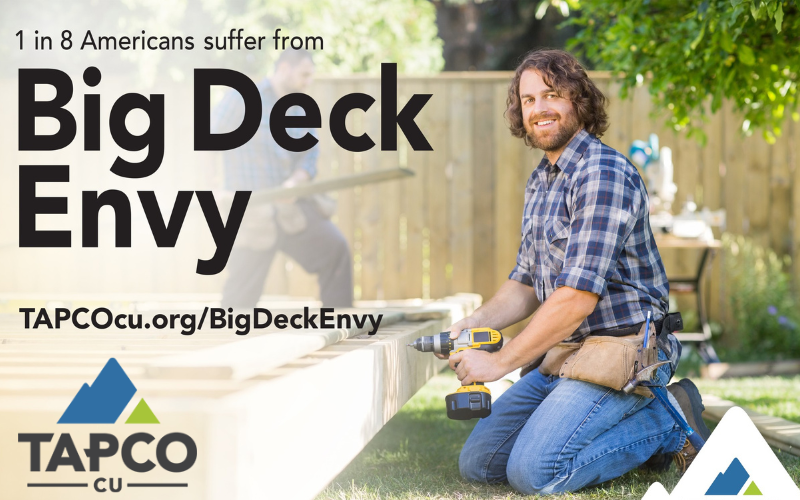 The world of marketing is vast, complex, and ever-evolving. Constantly shifting consumer behaviors mean marketers must always be informed, adaptable, and on the cutting edge to keep pace.
It can be difficult to do that when you're a smaller team, but the good news is that with some creative thinking and collaboration, any marketing team can plan creative campaigns that grab the attention of the community.
That's certainly the case with TAPCO Credit Union, based in Tacoma, Washington, which serves more than 30,000 member-consumers in the South Sound. TAPCO's small but mighty marketing department comprises just a few people, but their collective genius is enough to boldly take the credit union's products and services to new heights.
A recent TAPCO campaign, cleverly titled "Big Deck Envy," made waves in the Tacoma area this past spring, using humor to bring attention to the credit union's home equity loan, line of credit, and refinancing services.
GoWest Credit Union Association recently spoke with Angel Phillips, TAPCO's AVP of marketing, to gain insight into the team's creative process.
Q. Tell us a little bit about what prompted the Big Deck Envy campaign idea.
A. In the case of the Big Deck Envy campaign, this started off as just a postcard solicitation to promote our mortgage products. We knew we wanted humor — after all, who hasn't had a DIY project go wrong?
From there, it was adapted into the concept of peeking over your neighbor's fence and being envious of their big deck. We live in Washington, where sunny days are a rarity and enjoying the outdoors is a necessity. Once the drafted postcard was completed, it was a gamble if we would get it approved.
We submitted the postcard (along with a couple of other concepts) to our Chief Operations Officer, who is an advocate of creative marketing approaches. We got a phone call from him in laughing hysterics just a few minutes after sending the email. With his assistance, the concept was then introduced to the rest of our management team. We made a few changes to tame down the original concept and make our staff more comfortable with it but still felt it would resonate well. From there, we knew it needed to be a full campaign. We added billboards and used a local influencer (Jubal Fresh) to do our radio spots.
Q. When strategizing a marketing campaign, what is your creative process and how do you determine which risks are worth taking?
A. We love collaborations here at TAPCO. Often our campaigns start off with a brainstorming session within the marketing team. We discuss the purpose of the campaign, the channels we will be using, and, most importantly, the messaging and call to action.
In considering what risks are worth taking, it's a balance of risk and reward. We have been able to identify a few things to always be consistent in marketing: People love humor, kids, and pets. We knew that [the Big Deck Envy] campaign was more on the edgy side and dripped it slowly to monitor both member and community feedback. We expected to have a couple of complaints, which we did get. What we didn't expect was the overwhelmingly positive feedback we received from community members and other credit unions.
Q. What benefits have you experienced in executing a fun, light-hearted marketing campaign versus something more traditional/corporate?
A. TAPCO has done many traditional campaigns with great success; however, it is the fun and light-hearted ones that are memorable and we continue to hear about years down the road. We are competing against thousands of messages and advertisements — how are we standing out? When our marketing is going viral organically, that is a successful campaign. We saw with the Big Deck Envy campaign that community members were stopping to take a photo of our billboards and sharing them on their personal pages. Our website saw a large increase in traffic during this time as well. The messaging was intended to be a bit elusive to make members curious and engage with us.
Q. How successful was the campaign, and what was member feedback like? 
A. With all our campaigns, we set a goal of production and return on investment. We were promoting three different products as part of this campaign. Collectively, we exceeded the goal. We looked at additional data and found that the average age of members who obtained a mortgage product during the campaign was about five years younger than our current mortgage portfolio. We also saw additional auto loans and checking accounts from new members. We heard feedback from our frontline staff that several new members came in specifically because they saw our billboards and loved the concept.
Want to share your credit union's unique or innovative approach to marketing? Email us, and you may be featured in an upcoming edition of On The Go!
Posted in Across the Region.