Horizon Credit Union Welcomes Embark into the Family
Posted by Andrew Kobialka on August 2, 2022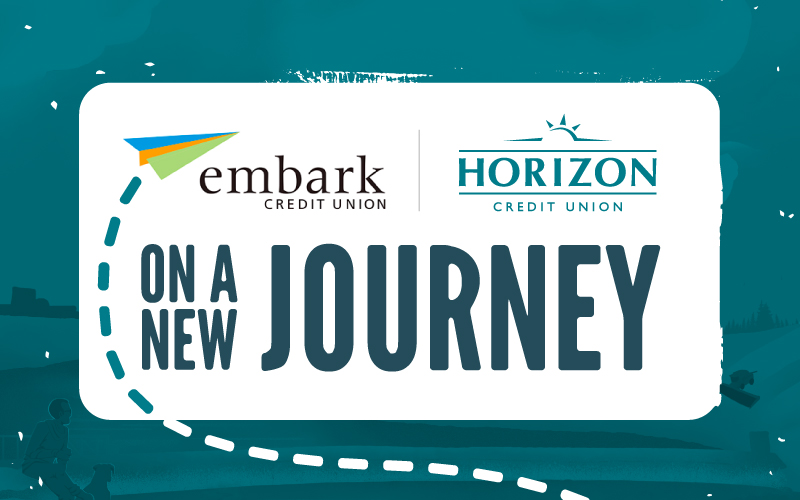 Effective Aug. 1, Embark Credit Union, based in Great Falls, Montana, is officially part of Horizon Credit Union, based in Spokane Valley, Washington.
The merger was approved by Embark members in May and unites two strong, healthy credit unions with long-standing roots in each of their markets. Horizon's service area now expands to north central Montana.
Deb Evans, president and CEO of Embark Credit Union, will continue to lead the local market in the new organization and will sit on the Embark Advisory Board. This continues Evans' legacy of providing expert financial guidance to the Great Falls community, which began in 1995.
"Joining forces gives our members and employees expanded products and services that will enhance their banking experience," said Evans. "Years ago, our board of directors chose 'Embark' to signal our members' financial journey, and merging with Horizon continues that journey. Together we are not just bigger, but better and stronger. Our combined presence and involvement in the Great Falls and the surrounding area will benefit not only our members but the communities themselves."
Horizon first entered the Montana market by bringing Montana First Credit Union into the family in 2012. In the decade following, Horizon has continued to grow and is now the third largest credit union operating in Montana. This will provide better banking access and services to the Great Falls area and existing Montana members.
The new organization has 31 branches with over 400 employees in four states and serves over 113,000 members. The systems conversion to migrate Embark member records to Horizon was completed at the same time as the official book merger and no branch closures or layoffs are expected as a result of the merger.
Both Horizon and Embark deeply value community engagement and the combined organization will strive to continue those efforts.
"We are happy to be welcoming the employees and members of Embark to the Horizon family!" says Jeff Adams, president and CEO of Horizon Credit Union. "Each of our credit unions cares about strengthening the communities we serve and providing quality service to our members. I look forward to seeing what our organizations are able to accomplish together."
Posted in Top Headlines, Washington.