Numerica Credit Union Distributed $20,000 in Scholarships to 14 Students
Posted by Andrew Kobialka on July 26, 2022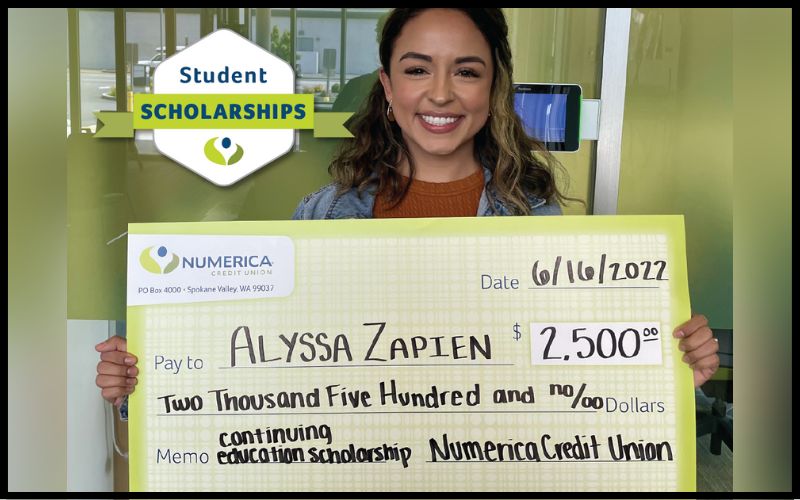 Numerica Credit Union, based in Spokane, Washington, donated $20,000 in scholarships distributed among 14 students.
The contributions were funded by two Numerica scholarships — the Continuing Education Scholarship for enrolled college students and the $tarting Off Right Scholarship for graduating high school seniors, which aims to help students live well by pursuing higher education.
Alyssa Zapien, one of the Continuing Education Scholarship recipients, said she will be using the funds to help pay for nursing school. A full-time student and part-time nursing assistant, she says this scholarship will be a tremendous help.
"As nurses, we are key members of healthcare teams, and we provide communities with the knowledge needed for healthy living," said Zapien. "In addition to supporting my community, I want to set an example for future low-income Mexican women, like myself, in the generations to come. The ability to help people and inspire them to become better versions of themselves is what fulfills my heart and will give me a sense of purpose in my future."
Since 2016 Numerica's ongoing financial education efforts have offered more than $185,000 in scholarships to support its members. This year, there were four $2,500 Continuing Education Scholarships and ten $1,000 $tarting Off Right Scholarships.
"Many of these students' families are unable to provide funds for tuition, so they've been relying on working part-time, financial aid, loans, and scholarships," said Lars Gilberts, Numerica's assistant vice president of community development and impact. "The students we selected stood out because of their drive, community involvement, and career goals. We're honored to help these young adults pursue their dreams!"
Find more information about Numerica scholarships here.
Posted in Regional Member News.