Northwest Classic Raises $1.6 Million 'Fore' Children's Miracle Network
Posted by Andrew Kobialka on July 26, 2022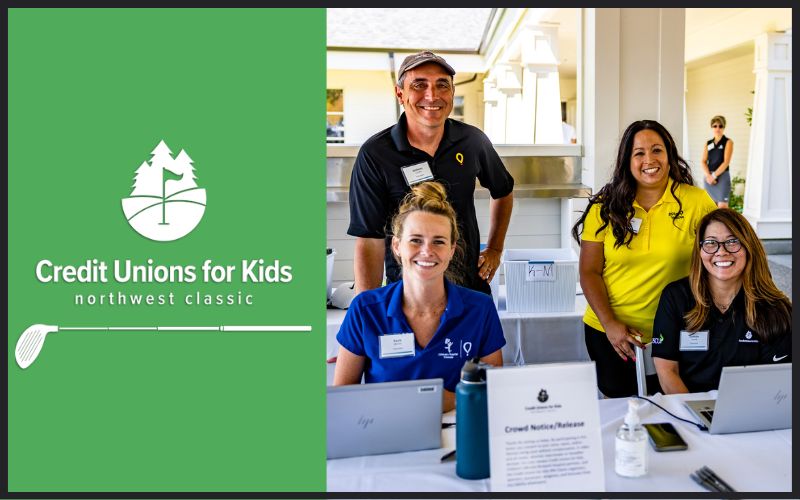 Signaling a hearty return from the pandemic, this year's Northwest Classic golf tournament was a hole-in-one!
The fundraising continued following the tournament resulting in a record-breaking $1.6 million raised — surpassing the original goal of $1 million. One hundred percent of the proceeds benefit children and families served at the following six Children's Miracle Network Hospitals across California, Colorado, Oregon, and Washington:
Seattle Children's Hospital;
Doernbecher Children's Hospital;
PeaceHealth Sacred Heart Children's Hospital – Riverbend;
UC Davis Children's Hospital;
USCF Benioff Children's Hospital – Oakland; and
Children's Hospital Colorado.
Twenty-two years after its inception, the Credit Union for Kids Northwest Classic tournament continues to make a lasting impact, and this year's event held on July 11 at the Pumpkin Ridge Golf Club in North Plains, Oregon, drew support and dedication from dozens of credit unions, employees, their members, and business partners to fund life-saving research, innovative medical technology, and supportive care for children.
"The Credit Unions for Kids campaign embodies the value we place on supporting our community," said Greg Mitchell, First Tech Federal Credit Union president and CEO. "We are inspired by the unwavering commitment and generosity of our credit union partners, business sponsors, and tournament guests to protecting the health of future leaders."
Gautam Josse, Children's Miracle Network Hospitals champion, spoke at the event. He reminded attendees that children in hospitals are just like everyone else, and when provided with the skillful, innovative care they need, these children grow up with healthy, bright futures.
Julie Breckenkamp, vice president of national strategic partnerships at Children's Miracle Network Hospitals said, "The Northwest Golf Classic has been an exceptional event for many years. We are proud to continue our partnership with First Tech FCU to raise critical funds for six of our member hospitals. On behalf of our entire organization, I offer a huge thank you to Greg Mitchell, his First Tech team, and the many sponsors who made this event one of the highest fundraising CU4Kids initiatives."
This year's successful campaign was made possible through the participation and support of many organizations, including GoWest Solutions partners CO-OP Financial Solutions, Fiserv, CUNA Mutual Group, ORIGENCE, and others as well as more than 20 credit unions.
Editor's note: Credit unions will have another opportunity to raise money for CMN hospitals this fall during the CU4Kids Disco Ball, taking place Oct. 26 at the 2022 MAXX Annual Convention in Spokane. Visit the event page online today to learn more and register.
Posted in CU4Kids, Top Headlines.