ALPS and Tongass Federal Credit Unions Announce Intent to Merge
Posted by Andrew Kobialka on July 26, 2022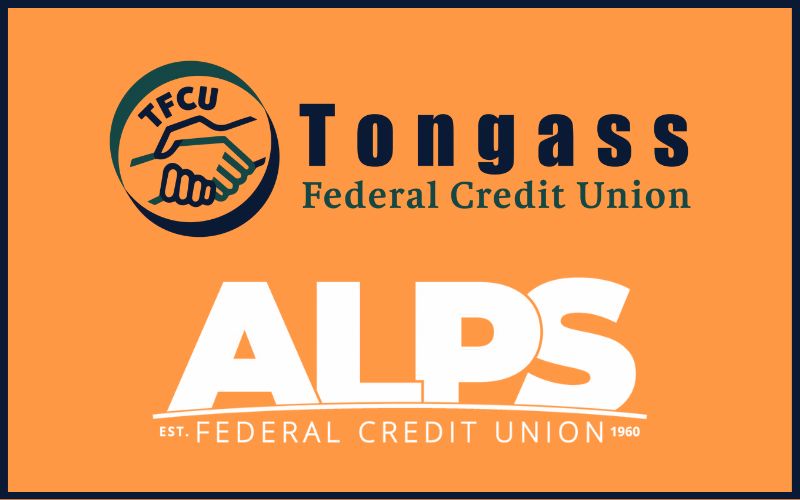 Tongass Federal Credit Union, based in Ketchikan, Alaska, and ALPS Federal Credit Union based in Sitka, Alaska, announced they are seeking regulatory approval of their intent to merge.
ALPS and Tongass — an associate member of GoWest Credit Union Association — have long been allies in the credit union industry, sharing best practices and supporting each other in serving Southeast Alaska coastal communities since the 1960s. Alaskan credit unions run by Alaskan leaders, Tongass President and CEO, Helen Mickel, and ALPS President and CEO, Sandi Riggs, trust that the members of their respective credit unions will benefit from enhanced services and improved convenience and access for members.
Tongass has nine locations across southeast Alaska including Ketchikan, Metlakatla, Thorne Bay, Klawock, Wrangell, Hydaburg, Kake, Hoonah, and Haines.  ALPS operates locations in Sitka and Petersburg.
The merged entities will operate under the Tongass Federal Credit Union brand.
"Tongass and ALPS serve the small and unique, coastal communities of Southeast Alaska," said Mickel. "We are Alaskans who understand the culture, climate, and lifestyle of our region. Tongass is excited to partner with ALPS to move our combined credit union into the future. We remain committed to serving indigenous and coastal communities while strengthening our ability to deliver excellent services that enhance the lives of our member-owners."
Upon completion of the merger, all ALPS employees will be offered positions with Tongass. Two directors from the ALPS Board of Directors will join the other seven Tongass directors to serve on the newly combined Tongass Federal Credit Union Board of Directors.
The merger would combine ALPS's 3,986 members with Tongass's 9,418 members and expand the workforce to approximately 72 employees.
"ALPS has grown exponentially over the past few years and is quite possibly the strongest it has ever been in membership, assets, and financial position," said Riggs. "We have always worked side by side with Tongass because our members share the unique characteristics of Southeast Alaskan consumers and businesses.  Both credit unions have had growing pains that include staff shortages, increased operating expenses, and regulatory burdens. Considering the current economic conditions, we feel it is the right time to combine our efforts and resources so that we continue to provide the best possible products and services to our shared and unique Southeast Alaska membership."
The proposed merger requires approval from the National Credit Union Administration (NCUA), the credit union's regulatory body, followed by approval of the ALPS membership.
Posted in Across the Region, Top Headlines.