Q&A with AACUC Brave YPS Leadership Award Winner: Hazelmae Overturf
Posted by Andrew Kobialka on July 12, 2022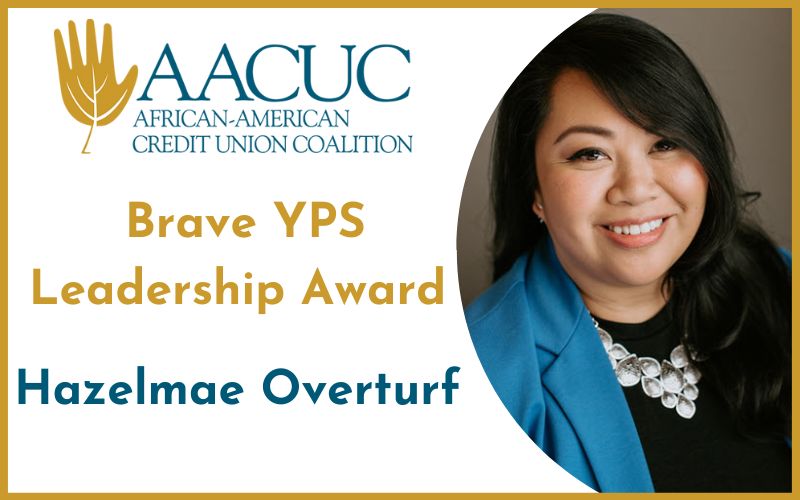 The African-American Credit Union Coalition recently held its inaugural Commitment to Change Young Professionals Leadership Awards and awarded BECU's Hazelmae Overturf the Brave YPS Leadership Award!
Brave YPS Leadership Award recipients are emerging leaders who have forged a path in the promotion of diversity, equity, and inclusion within the Credit Union Movement.
Overturf did this while serving as BECU's product owner of employee experience, and leading major efforts toward the Tukwila, Washington-based credit union's Belonging, Including, and Leveraging Difference (BILD) Program.
In a recent Q&A with GoWest Credit Union Association, Overturf shared her gratitude and thoughts on earning this distinction.
GoWest: What does the Brave YPS Leadership Award mean to you?
Overturf: When I think of being Brave, I think about action despite the presence of fear. Thanks to advocates and supporters, like the African American Credit Union Coalition, and a sense of urgency and need in the current climate we are in, I felt like I could and had to be brave.
I was able to step into tough conversations, encourage empathy and compassion, and ultimately bring humanity into professional spaces.
This award is truly a reflection of that call to action and also the support and encouragement of others to try, lean into each other, and continually learn. I'm so proud to be a recipient of this award because I share it with those who removed fear from my heart and mind and those who feel inspired to action now.
GoWest: Tell us a little bit about your involvement in the BECU's Belonging, Including, and Leveraging Difference (BILD) program.
Overturf: I'm so proud to have been involved in the early stages of our BILD program. BECU started the BILD program in 2018 and it has since evolved to so much more thanks to the work of our Office of Equity and Inclusion.
In the very beginning, my team and I called on a bit of bravery as we launched into the unknown (to us) of how to operationalize the early foundation of our BILD program through training and learning experiences. We created curriculums for leaders that dealt with practicing our BILD behaviors, held listening spaces for all to connect, and more.
As our diversity, equity, and inclusion strategy evolved, I became a co-chair of our Young Professional Employee Resource Group and partnered with our BILD Councils, Office of E&I, and senior leadership on how to continue improving the learning experience and journey.
I also volunteered for our inaugural Equity Summit last year and can't wait to see what's next! To witness the changes over the last few years has been such a privilege. I have personally learned so much about DEI strategy, history, and context for the world we live in, and continue to grow my cultural competency and learning mindset. I have become more brave through my knowledge and experience.
GoWest: You have fully embraced the "People Helping People" mission of the credit union industry. What is next for you in your journey to help others in this space?
Overturf: After nearly 13 wonderful years at BECU, I'm making a brave step toward my long-term goal of leading a credit union organization. I'm transitioning to a smaller credit union (Kaua'i Federal Credit Union) and doing work specifically in community development and economic resiliency. I plan to stay involved with my local association, stay connected and supportive of my networks, especially the Young Professionals or as I like to describe them, the "future" of our movement, and much more. I continue to encourage everyone to check in with themselves, bring their humanity forward in our work, dream big, and always keep learning!
Posted in Regional Member News.