First Six-State Spring 'Hike the Hill' Gets Results
Posted by Ben Shuey on June 14, 2022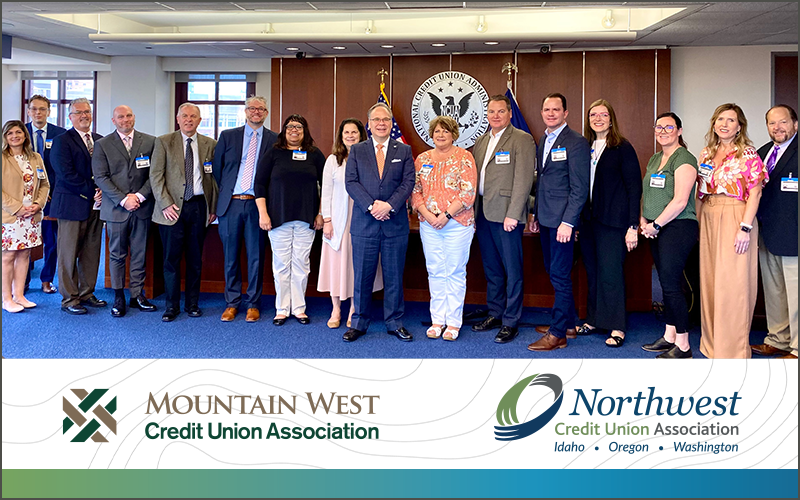 With just weeks to go before the merger of the Mountain West Credit Union Association and Northwest Credit Union Association becomes official, advocates from all six states the new Association will represent, traveled to Washington, D.C., for a Spring Hike the Hill June 8-9.
To say they were successful would be an understatement. Following meetings in 27 congressional offices, Rep. Joe Neguse's (D-CO 2nd District) staff notified the Association the congressman has signed on to co-sponsor H.R. 6889, the Credit union Board Modernization Act. Days earlier, Arizona Senator Krysten Sinema (D-AZ) introduced a Senate version of the legislation, S.4325. If passed, the bills will reduce the number of required board meetings each year, allowing staff time, expenses, and other resources to be channeled toward offering services to members.
In addition to asking their representatives to support the board modernization legislation, advocates messaged priorities such as expanding financial access for underserved communities, extending loan maturities, data privacy, and more.
While the Hike was underway, the Senate was in the process of confirming Todd Harper as Chair of the National Credit Union Administration Board of Directors. The day after his confirmation, Chairman Harper welcomed the advocates to his offices for a face-to-face meeting. Hike attendees also had some one-on-one time with Vice-Chair Kyle Hauptman during their visit to Washington, D.C. Following that event, NCUA Director Rodney Hood came to Colorado for a meeting with the Association team and credit union advocates on June 13. Priorities discussed during all three meetings included fintech opportunities for credit unions, modernization of the Central Liquidity Facility, and other topics.
It's a Busy Summer
The Association's advocacy team and credit union leaders aren't slowing down! In the coming weeks, they will be meeting with legislators and candidates for state and federal offices, to educate them about the credit union difference. In addition, Governmental Affairs Committees are coming to the table in all six states – Arizona, Colorado, Idaho, Oregon, Washington, and Wyoming, to help shape policy agendas at the federal and state levels for 2023 and beyond.
Training Advocates of the Future
Credit union professionals looking to deepen their understanding of how advocacy strengthens the Credit Union Movement, are invited to register for the Advocacy 101 program. During the two-part virtual workshop, attendees dive into what it means to be an advocate and will receive the tools and training needed to maximize their impact. Several convenient options are offered during the morning and afternoon hours on July 20 and July 21. More information can be found here.
Posted in Advocacy News.