How User-Friendly Member Behavior Insights Bolstered This Credit Union's Growth Plan
Posted by Ben Shuey on June 7, 2022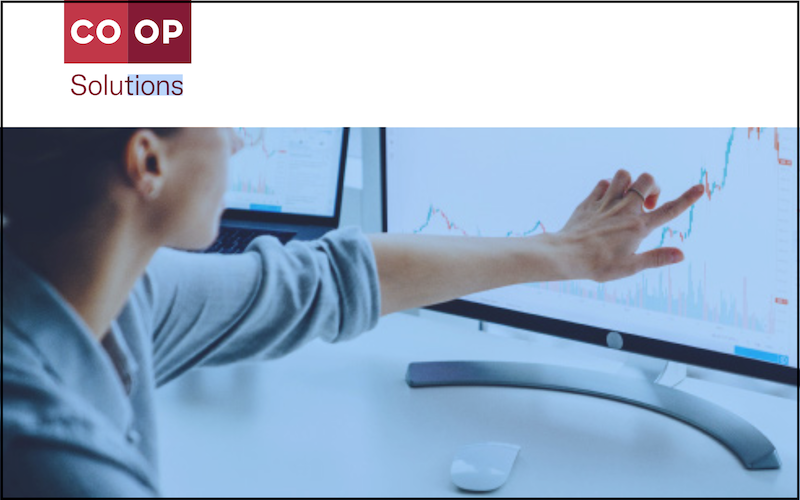 Today's consumers expect convenient access to their credit union wherever they go, and while online banking provides much of that convenience, it falls short for some services, such as, for example, withdrawing and depositing cash.
Co-op Solutions' Shared Branch network allows members of one credit union to perform a range of transactions at another credit union. Through the Shared Branch network, participating credit unions can serve members in diverse geographical locations, even when they move or travel.
WSECU has for decades enjoyed the benefits of being a Shared Branch partner, both as an acquiring and issuing financial institution. As the value of data and analytics in all forms of retail banking becomes clear, the Olympia, Washington-based credit union was curious about Co-op's data enhancement plans for the service.
"We wanted to know what was next for the network," said Lora Cunha, WSECU Director of Card and Terminal Services. "I was familiar with Co-op's data-centric projects, specifically its work to develop the Co-op Insights Center. So, when we learned Shared Branch was going to become a part of the Insights Center, we jumped at the chance to help that project along as a beta participant."
Data Highly Valued by WSECU Leadership
According to Cunha, data is hugely important to WSECU's strategy. However, when it came to data analytics, Cunha explained that she and her team were accustomed to making the best of what they had access to, which wasn't much.
"We look at data as a way to tell a story to our colleagues in service delivery, retail, and finance," she said. "Blue bar reports that are hard to format, data you can't really play with — that is what we had gotten used to. Makes it tough to tell a good story."
With enhanced reporting from Co-op, Cunha looks forward to communicating various Shared Branch data stories with multiple stakeholders. For branches, she believes the availability of on-demand data will assist with staffing decisions. For finance, intelligence on income and expense will inform budget planning and strategy.
WSECU's senior management team will be able to assess the member benefits of Shared Branch participation more clearly. In addition, says Cunha, the knowledge of where and how members are transacting will be essential to the credit union's growth, a critical initiative identified by WSECU's leadership.
"The enhanced reporting shows us money flowing in and out, transaction types, in-branch behaviors, and it's all granular, down to the dollar amount of each transaction," said Cunha. "We expect the insights will highlight more opportunities for new branches, express centers, and ATM locations."
This level of detail is important for WSECU, which is, like many credit unions, highly focused on providing great experiences for members who engage with the cooperative's technology.
Data on WSECU's website and mobile app use can now be combined with information on in-person banking via Shared Branch. This will help the credit union pinpoint ways to improve the new member onboarding experience, something that will become critically important as WSECU's growth plan is put into action.
Getting the Right Data to All the Right People
While Cunha looks forward to sharing data stories with credit union leadership, she has already shown WSECU's data analytics team what Co-op Shared Branch Reports can do.
"They were blown away," she said. "They immediately saw the possibilities for getting all the right data to all the right people and how that will enable us to hit the ground running with our growth plan."
Importantly, the Shared Branch Reports visualization was built with both data experts and non-experts in mind. The solution's flexibility enables different users to ingest data precisely as they prefer.
"We're really pleased to see the dynamic graphs, which help us communicate insights out to all manner of teams," Cunha said.
Before working with Co-op in beta testing, WSECU staff had put in a lot of time downloading, sorting through and formatting data to understand where and how members were engaging with other financial institutions and which of their branches were experiencing the heaviest traffic. The beta experience allowed them to confirm the findings from earlier analysis.
"When I started digging into the reports and comparing the insights, I was pleased to see that I could get to the same results in much less time," said Cunha. "Shared Branch Reports validated what we had discovered and planned for."
Additional benefits Cunha is looking forward to is the easy onboarding of more users outside of the credit union's data science or analytics and insights team.
"It's a safe bet there will be less training necessary. Even though the Shared Branch Reports are pulling in a ton of data, analysis is a really quick process that puts insights right at anyone's fingertips."
To learn more about Co-op Solutions' products and services, including Shared Branch, visit its Strategic Link partner page or contact the Strategic Link team to get connected.
Posted in GoWest Solutions.