InRoads' Debit Card Program Gives Back Over $334,000 to Local Schools
Posted by member on June 2, 2022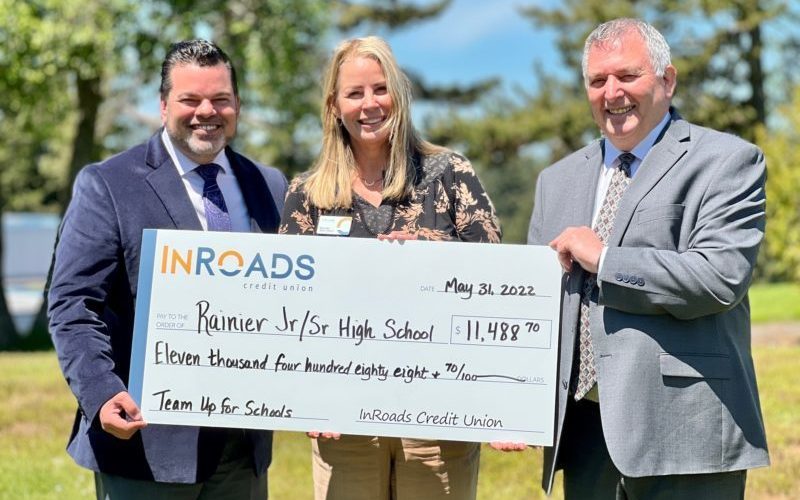 The InRoads Credit Union Team Up for Schools program has grown year over year. With the help of its members, the St. Helens-based credit union has raised a five-year total of over $334,000 for local high schools.
The InRoads Team Up for Schools program encourages members to use a co-branded debit card featuring one of three high school mascots for St. Helens, Scappoose, and Rainier high schools. When members use their card for a purchase, InRoads contributes 5¢ to their favorite school. For the 2021-2022 school year, members have helped raise $99,842.70
"Since launching this program in 2017, we've seen greater adoption and usage amongst Team Up card holders than other card holders," said Brooke Van Vleet, InRoads President and CEO. "It's such an easy way for our members to give back to the community. With the increase in interchange income and the strong support of local schools, we consider it a win-win."
This year, St. Helens High School has received $51,424.15, Scappoose High School received $36,929.85, and Rainier High School has gotten a total of $11,488.70.
"InRoads Credit Union has clearly had an incredible impact on our students and community," said Scappoose High School Principal, Jerimy Kelley. "We look forward to continuing the partnership between the High School and InRoads Credit Union."
At Scappoose High School, plans for utilizing the funds include the purchase and implementation of a horticulture curriculum and added support for school activities. In addition, Rainier High School has used Team Up funds for an electronic marque for the campus entrance, an electronic score table for the gym, and graduation celebrations.
Learn more about the InRoads Credit Union Team Up for Schools program here.
Posted in Regional Member News.