Updates from the Oregon Capitol
Posted by Pam Leavitt on February 11, 2022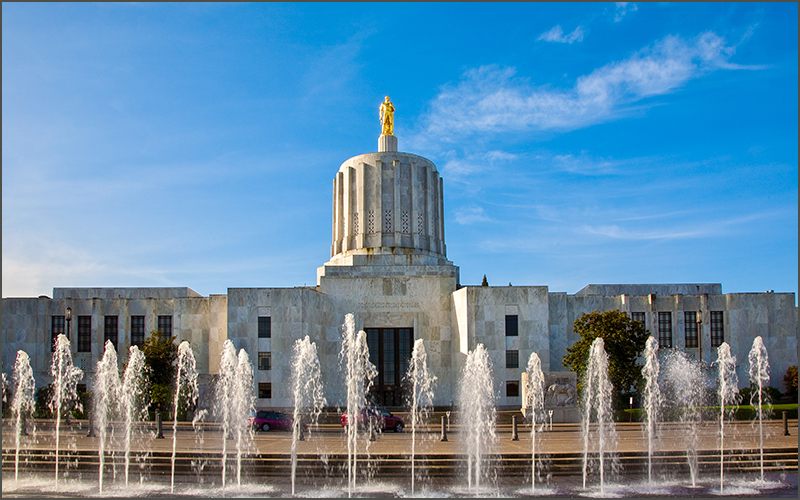 Revenue Forecast
An important day in any legislative session is the day the Revenue Forecast is released!  According to a report by Oregon's Legislative Revenue Office this past Wednesday, the state has more than $800 million in additional revenue than initially predicted.  The Senate Committee on Finance and Revenue met to discuss the state's revenue forecast. During the meeting, the Oregon Office of Economic Analysis reported the state has amassed almost a billion dollars from tax revenue and other sources for the 2023-25 biennium.  In a statement, the new House Majority Leader, Julie Fahey said lawmakers should be looking to drive down the cost of living by directing funds toward affordable housing, childcare, and healthcare.
Second Week of Session! 
The Oregon Legislature went into session on February 1st and is scheduled to meet for only 35 days.  The Oregon Capitol is closed but all hearings are online, and many members are not in the building taking meetings.  They are only there for floor sessions.  A couple interesting bills to note:
HB4017 – The NWCUA has been working on getting exemption language in a bill to register data brokers.  HB4017 prohibits business entity from collection, storage, or transfer of personal data within this state without annual registration as a data broker with the Department of Consumer and Business Services.  In the amendment we worked on, the bill defines "data broker" to exclude credit reporting agency, financial institution, and certain business entities and excludes those who report under GLBA.
HB4079 – Last week HB4079 "died" in committee but would have created a new tax.  The bill, sponsored by State Rep. Brad Witt (D), would have created Oregon's first ever sales tax. The purpose of the tax is to fund $750 monthly debit cards to the homeless and people under the poverty level. Proponents of HB 4079's says the tax is a "luxury" sales tax because at first it only applies to particular products over a certain price.
HB4155 – Creation of the Cybersecurity Center of Excellence: HB 4155 would Establish an Oregon Cybersecurity Center of Excellence (CCOE) as an independent, nonprofit public corporation charged with coordinating, funding and providing cybersecurity workforce development, education, awareness and training for public, private and nonprofit sector organizations, and facilitating cybersecurity-related goods and services to Oregon public bodies with a targeted focus on the unmet needs of regional and local government, special districts, Education Service Districts, K-12 schools and libraries.
Coming to the Capitol City!
The Oregon CU Legislative Luncheon is set for Feb. 17th in Salem, and we are looking forward to seeing several Credit Union Advocates offsite at the Willamette Heritage Center.  Most of the legislators and staff are working remotely and the Oregon Capitol is under major construction including the addition of adding metal detectors to the entrances. The tight schedule makes visit to legislative offices challenging; however, if you are a key contact, or have a personal relationship with a legislator, we encourage you to let them know you will be at the Capitol on Feb. 17. Some legislators may request that you stop by to visit them at a specific time.
Posted in Advocacy on the Move, Oregon Advocacy.