Oregon Sets Voting Record; Flips Some Key Legislative Races
Posted by Lynn Heider on November 4, 2020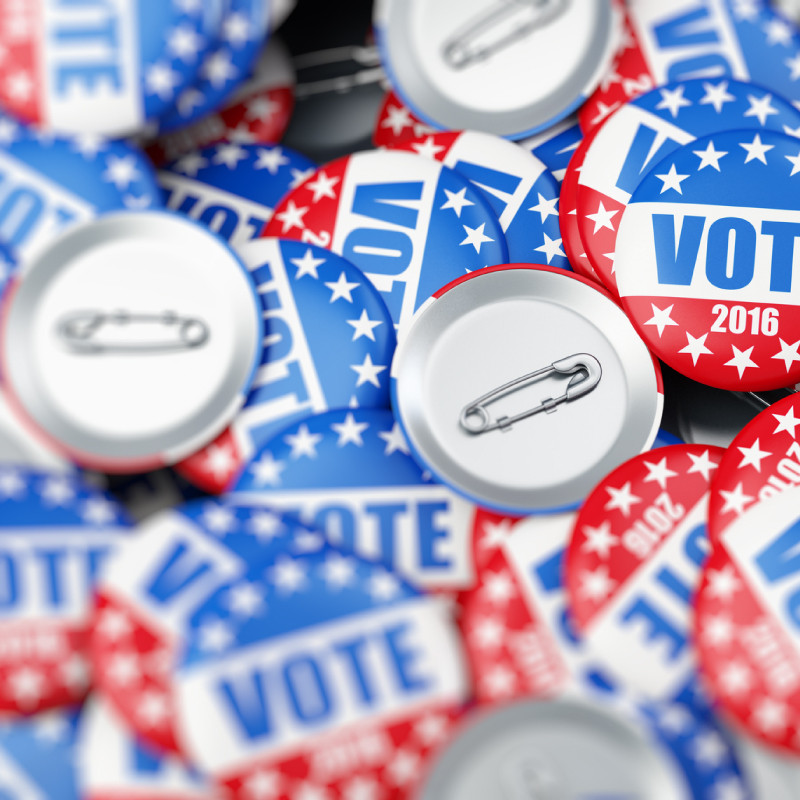 While the outcome of the Presidential race is still unknown, Oregon was more predictable. However, we did see some key races flip parties in the Oregon Legislature. Oregon Democrats swept the statewide races with Tobias Read winning a second term as State Treasurer, Ellen Rosenblum winning re-election as Attorney General, and Sen. Shemia Fagan beating Sen. Kim Thatcher for the key Secretary of State's race.   
Oregon had a record 2.3 million voters turn in ballots. According to the Oregonian, "Oregon's well-oiled vote-by-mail system delivered decisive results in the vast majority of contests Tuesday night. Oregon's six contested seats in Congress, its three races for statewide state office, nearly all legislative races and key money measures all were decided shortly after the balloting deadline, thanks to swift action by voters and election officials." 
Oregon credit unions helped re-elect several advocates throughout the state and also supported new faces in the Oregon Legislature. We are excited about the many credit unions friends who will be in the Capitol in 2021.
Statewide Races
Both State Treasurer Tobias Read and Attorney General Ellen Rosenblum easily won another term in 2020. Treasurer Read won 52% to Jeff Gudman's 40%. Attorney General Ellen Rosenblum won 56% to challenger Michael Cross's 40%. The race to watch this election cycle was the Secretary of State's race between two current Oregon State Senators, Sen. Shemia Fagan (D) and Sen. Kim Thatcher (R). Because of the role the Secretary of State plays in the redistricting process that happens every decade, this race received not only attention but a great deal of money. Sen. Fagan led the entire way and has won with 51% of the vote over Thatcher's 42%.     
 
State Legislature
There were three key races to watch this election cycle: Senate District 5, Senate District 10, and Senate District 27. The Senate Republicans have just 12 members to the Democrats' 18. If the current numbers hold, the Republicans will flip one seat and the Democrats will flip one seat keeping the Oregon Senate at 18-12. One seat in Bend is too close to call. As expected, Rep. Chris Gorsek won the Senate seat vacated by Senator Laurie Monnes Anderson. Kate Lieber (D) joins the Oregon Senate from the seat vacated by Sen. Mark Hass and Art Robinson (R) takes over the seat vacated by former Senate Republican leader Herman Baertschiger. 
 
SD5: This seat on the Oregon Coast (Lincoln City/Coos Bay) is being vacated by Senator Arnie Roblan. It has a 4.5% Democratic advantage. Dick Anderson (R), the Mayor of Lincoln City, is currently in the lead against Melissa Cribbins, a County Commissioner, 49%-46%. This seat would flip to Republican. 
 
SD10: Incumbent Senator Denyc Boles (Marion and Polk County) ran against Deb Patterson, an ordained member of the clergy. Sen. Boles was appointed to this seat after the passing of longtime Senator Jackie Winters. Deb Patterson has kept a lead throughout the day and is leading 50%-46%. This seat would flip to Democratic.   
 
SD27: Senator Tim Knopp (Bend), who has served in the Oregon Legislature since 1999, has worked hard over the years to reach across the aisle to work with Democrats. His district has changed over the years and it now has a 4.5% Democratic registration edge. He is running against Eileen Kiely, a veteran and retired financial manager for Daimler. Senator Knopp has a slim lead today at 50%-49%. We will be keeping an eye on this race for a possible re-count. 
The Oregon House has been trending Democratic for several years because in 2016 they picked up three key suburban seats that were typically Democratic; HD26 (Wilsonville), HD32 (Tillamook), and HD37 (West Linn). Prior to this election, they held a 38-22 edge in the House. However, one place that is trending Republican is the Oregon Coast and in 2020 they picked up two key coastal seats that have been held by Democrats. On the other side, the Democrats have been focused on the Bend House seat. It was held by Republicans Knute Buehler and Cheri Helt and has now flipped to Democratic. Here is a summary of the key races: 
 
HD9:  Known as a true Democratic moderate, Rep. Caddy McKeown is retiring at the end of the year. Retired teacher, Boomer Wright (R) flipped the seat and beat Democratic challenger Cal Mukumoto. With only a .05% Democratic advantage, Wright ran the stronger campaign and won with a clear victory of 57%-42%. 
 
HD20: This race is a rematch between Incumbent Rep. Paul Evans (D) and Selma Pierce (R). Evans won in 2016 by over 2,000 votes (7.1%) and the seat currently has 5.1% Democratic advantage. For the second time and being outspent 2 to 1, Evans beat Pierce with a strong 52% to 47%.   
 
HD26: Rep. Neron beat incumbent Rich Vial in the 2016 election, however it was close as she won with 1283 votes (3.8%). This seat covers Wilsonville and areas in Washington County. Republican Peggy Stevens, who is a bookkeeper, out-raised Neron, but with a 5.2% Democratic registration edge, Neron beat Stevens 56%-42%. 
 
HD31: This race has moved to the watch list as incumbent Rep. Brad Witt (D) only holds a 465-vote lead over his opponent Brian Stout (R) at press time. This is the Northeast part of the state (Clatskanie). 
 
HD32: Rep. Tiffiny Mitchell (Clatsop, Tillamook Counties), who won in 2016, decided not to run again. Republican Suzanne Weber, Mayor of Tillamook and former educator, is taking on Democrat Debbie Boothe-Schmidt, a small business owner. Weber was able to flip this seat and beat her opponent 54%-46%. 
 
HD52: This race is another rematch from the 2016 election, when incumbent Anna Williams (D) only beat Jeff Helfrich (R) by 897 votes (2%). The seat holds a 5% Democratic registration edge. Williams held on with a strong finish and won 52%-45%.   
 
HD54: This was expected to be one of the most competitive seats in the Oregon House, but it did not turn out that way. HD54 has been trending Democratic for several years but has been held by moderate Republicans Knute Buehler and now Cheri Helt. The seat has a 14-point Democratic registration edge, but voters have supported moderate Republicans for many years. Helt is pro-choice and was the only Republican in the Oregon House not to walk out during the 2019 legislative session. Helt lost 39%-60% to her opponent, Democrat Jason Kropf, a Deputy District Attorney in Deschutes County.   
Notable Ballot Measures 
Campaign finance reform, cigarette taxes and "mushrooms" all made it to statewide ballot measures. All of the ballot measures passed with strong support. Campaign finance limits passed 78%-21% while an increase to cigarette and vaping taxes passed 66%-33%. Measure 109 passed with a closer 55% of the vote. It allows the manufacturing and delivery of Psilocybin. Psilocybin is a naturally occurring psychedelic prodrug compound produced by more than 200 species of fungus. This is a first in our country. Finally, the highly funded Metro Transportation Tax went down 56%-43%. The controversial measure facing Portland area voters would have added a payroll tax increase on businesses with 25 or more employees to support a variety of transportation projects.   
If you have questions, please reach out to Pam Leavitt, [email protected]  
Posted in Advocacy on the Move.