Positive news for WA's upcoming budget process
Posted by Ben Shuey on September 24, 2020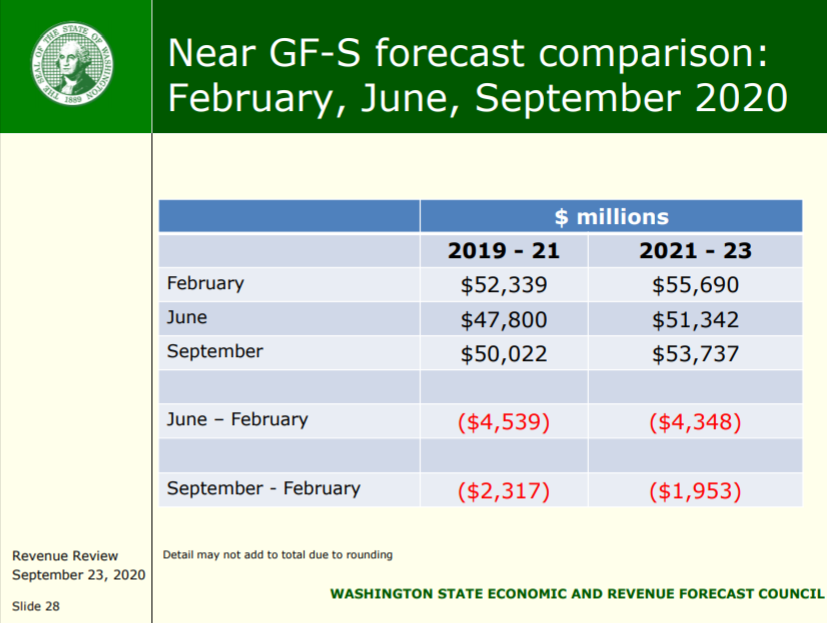 While the Washington State Legislature still has a major challenge in front of it in order to address the projected state budget shortfall, the task projects to be more manageable
following yesterday's new third-quarter revenue forecast
. The Washington State Economic and Revenue Forecast Council receives quarterly projections from the state's chief economist, Dr. Stephen Lerch, on anticipated state tax revenues for the current and next budget cycles, which cover the next three years.
The previous forecast projected a nearly $8 billion shortfall between state spending and anticipated tax revenues between now and June 2023. Yesterday's updated forecast reduces that to a $4 billion shortfall over the same period. Of course, given the significant uncertainty of COVID-19 moving forward Dr. Lerch warned this, like the last one, was based on a good deal of uncertainty so is likely to change in the coming quarters. While it still presents a major challenge the state has a healthy emergency fund for times like this, which coupled with any potential federal assistance to states, could dramatically reduce the number of spending cuts or tax increases lawmakers have on the table when they meet next.
The change is largely based on significant increases in monthly tax collections in recent months, real estate excise taxes returning to pre-pandemic levels due to strong home-buying activity, significantly higher than expected auto sales, and a major spike in cannabis revenue.
Your advocacy team is of course tracking this closely and continuing engaging with key budget-writing lawmakers as they look to solve the problem to ensure they recognize the great work credit unions do every day to serve the needs of members and communities and highlight the tremendous value of the credit union structure and associated tax status.
Posted in Advocacy on the Move.