Fireworks Continue During Idaho's Special Session
Posted by Ben Shuey on August 25, 2020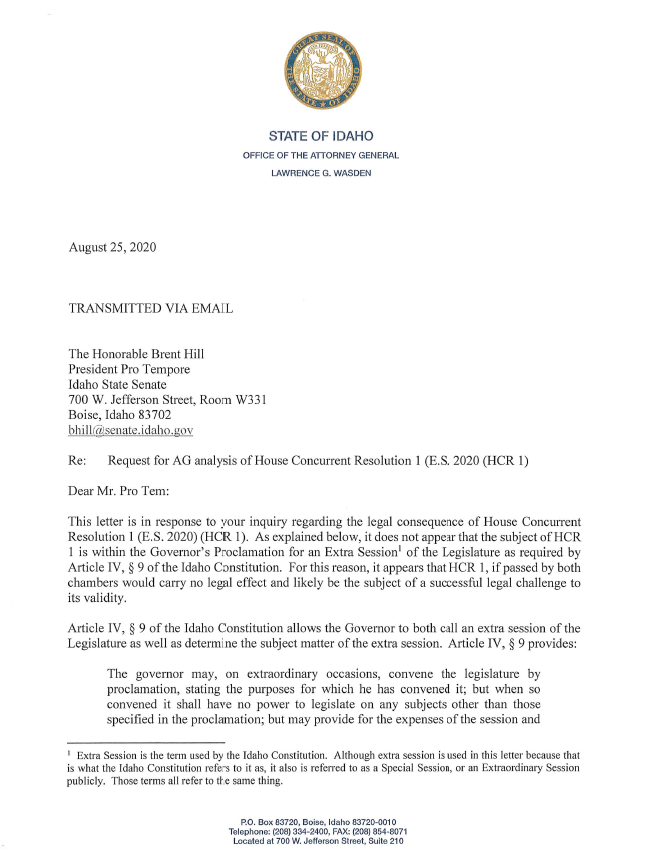 A Special Session of the Idaho Legislature kicked off on Monday morning to multiple protests and chaotic unrest in the Idaho Capitol.  The Special Session was called by Governor Little to address two areas of concern: liability safe harbor for businesses and schools as well as ensuring a safe and fair general election in November.  The NWCUA was closely following the liability safe harbor legislation, and was generally supportive of several components of the draft measures that had been presented in recent work groups.  
During the proceedings on Monday, Representative Steve Harris (R – Meridian – 20) introduced a concurrent resolution that would effectively end the state of emergency that has been established by Governor Little. Following a full hearing on the legislation, HCR 1, it was approved out of committee with a "Do Pass" recommendation.  Earlier this afternoon, the full House of Representatives passed the resolution on a 48-20 vote.  While the House was debating the bill, the Senate was simultaneously requesting an Attorney General's opinion on the legality of the resolution. 
The Attorney General returned a legal opinion, late this afternoon, that outlined that HCR 1, which aimed at ending the current state of emergency related to the COVID-19 pandemic, "would carry no legal effect and likely be the subject of a successful legal challenge to its validity."   
Following this feedback from the Attorney General, the Senate has recessed for the day and will be back on the floor in the morning to take action on HCR 1 and other measures passed by the House.  In the meantime, the House has drafted a compromise liability safe harbor bill that is a combination of four separate proposals on the subject.  We would expect the House Judiciary Committee to take testimony and consider this legislation tomorrow morning.  
The NWCUA Advocacy Team will continue to closely follow and report on issues being presented during the Special Session of the Idaho Legislature. 
Posted in Advocacy on the Move.