Lenders Council Host(s)
Corina Ruiz
Director, Outreach & Engagement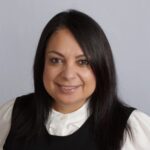 Corina Ruiz is the Director of Outreach & Engagement for GoWest. In her role, Corina connects credit unions with the best partner to ensure success all the way around.
She is passionate about progress through innovation while remaining true to the credit union cause.
For the past ten years, Ruiz was the Seattle Branch Manager of the Ironworkers FCU. Working in a small credit union environment gave her the opportunity to learn a little bit about a lot of things. She is a graduate of the Western CUNA Management School as well as the Emerging Leaders Program with DDJ Meyers.
Ruiz wholeheartedly believes in the credit union philosophy of "people helping people." It gives Ruiz great joy to make a positive impact on the lives of credit union members. As part of the credit union family, Ruiz enjoys being part of a support system that helps elevate others to a greater sense of happiness, whether financially or personally.