HR & Trainers Council Host(s)
Jennifer Huggard
Chief Administration Officer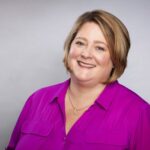 Jennifer Huggard is the Chief Administration Officer at the GoWest Credit Union Association. Her main responsibilities include human resources, payroll, and accounting.
Huggard earned a Bachelor of Arts in psychology from the University of Washington. After working as an online banking customer contact for KeyBank, she joined the Washington Credit Union League, where she became the educational services administrator. After moving into the accounting role at the League, she added human resources to her plate. She really enjoys focusing on the air we breathe.
In her quest to better support her team, Huggard has earned certification as a Senior Professional of Human Resources (SPHR) and is on the Executive Committee of the CUNA HR/TD Council.
Huggard appreciates the cooperative nature of the credit union movement. Credit union professionals' genuine concern about putting the consumer first stands out to her.