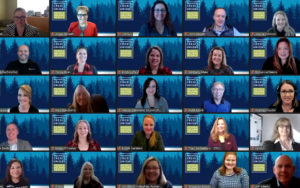 Meet with Washington State Legislators and Tell Them Your Credit Union Story! 
Make your voice heard on behalf of your credit union to ensure state lawmakers understand and appreciate your community impact and support efforts to modernize the state credit union charter. Due to ongoing pandemic restrictions this year's Credit Union Day at the Capitol will be held virtually as lawmakers continue to do the majority of their work remotely and limit public access to the state Capitol building.  
Our goal is to get hundreds of credit union professionals, including first-time participants, to gather virtually to hear from your NWCUA team, conduct advocacy training, and hear from state leaders. Meetings with key legislators will occur throughout the rest of the 2022 legislative session, and you'll hear from us directly on the scheduling of those meetings.
Please visit the NWCUA Grassroots Advocacy Page  and go to "Find Officials" to find your home and work legislative districts for your state prior to registering for the event.