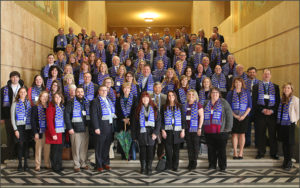 Stand Up for Credit Unions at the Oregon State Capitol this Year to Protect and Advance the Credit Union Charter!  
We look forward to seeing you at this important advocacy event in Oregon. As a reminder, the 2022 legislative session will be a short one, with only 35 legislative days, and legislators will be focusing primarily on technical updates and fixes to the passed budget. This legislative luncheon gives us the opportunity to maintain a strong presence in the Oregon Capitol without a long day of meetings and events. Credit unions must continue to deliver our message of Structure, Value and Impact!   
Credit union advocates will gather for a meeting and luncheon that will include speakers from the Oregon House and Senate as well as the Executive Branch. The day will include a briefing, followed by remarks by legislative guests and lunch. It is always time to tell the credit union story! You are welcome to reach out to your legislators to let them know you will be in the Capitol as the Association is not scheduling any individual appointments. However, we will be delivering key background information to each legislative office.  
We hope you can join us for this important advocacy event which will bring together credit union advocates for discussion around legislative issues and updates, insights from legislative leaders, advocacy training, and more.  
Please visit the NWCUA Grassroots Advocacy Page and go to "Find Officials" to find your home and work districts for your state prior to registering for the event.